We know dental culture so we know every dentist is different. Dental Symphony creates a sophisticated and customized online experience for the patients and staff.
Getting started is simple and fast using our default forms. They are ready to go when you sign up or make unlimited custom changes!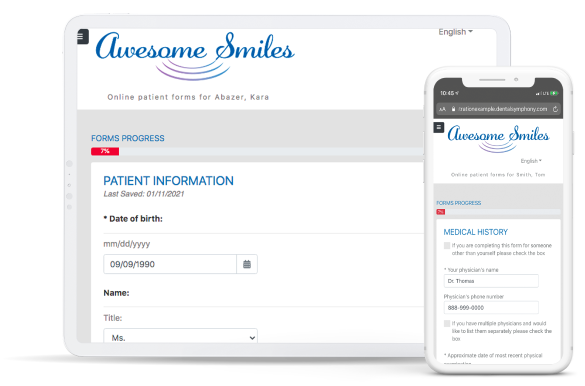 It's the 21st century. Online forms should do more than just answer the question...
Our forms are not based on old and basic practice management forms like the others.
Our smart and interactive forms make it fast and easy for the patient eliminating any dual entry of information. When they come back to your office for their next appointment, the patient reviews past answers and makes any necessary changes, can add family members and never starts over from scratch.
Our portal can be translated into Spanish for patients and then the output translated back into English for the staff.
Your patient portal will be matched to the look and feel of your website.
Text, email or link the portal on your website as well as text/email treatment consent forms to patients.
Patients agree to policies, have the opportunity to view and read your HIPAA statement and they affirm they are giving true and accurate information with an electronic signature.
Once a patient starts filling out and saving forms on the portal, the front desk staff are notified immediately from the notification list.
They can see the type of patient, view what forms have come in, nudge patients to finish forms, and once they are happy with the information received, move that information into their practice management system.
COMPATIBLE WITH

Curve Dental
Denticon
Dentrix Ascend
Dentrix Enterprise
DSN
Easy Dental
MacPractice
Open Dental
Perio Exec
PracticeWork
Softdent
WinOMS
*Don't see yours listed? Ask us!
DIRECT INTEGRATION
Dentrix G6.3+
Eaglesoft
Dentisoft
It's helpful to know your patients have diabetes but it's better to know how diabetes has affected that patient over time. What if the patient also has hypertension? What would a physician say about this disease combination?
Wouldn't it be great to know what top 5 diseases your patients present with, or the top 5 medications your patients take on average?
Our unique clinical approach and medical analytics provides a deep dive into the health of your patients and practice.
Integrations offered
You can use Dental Symphony no matter your PMS system. Direct integrations offered with Dentrix 6.3+, Eaglesoft, Dentisoft.
*Open Dental integration coming soon.
Get started quickly!
Our HIPAA secure patient portal provides interactive default registration forms and treatment consents, not fillable PDFs! Just send us your office policies and the patient portal is ready to go!
Treatment Consents
Our treatment consents can be signed either in the office or texted/emailed for a patient to sign at home.
Unlimited customizations
Although our default forms are ready to go which means there is very little set up time, we offer unlimited customization and creation of forms for no extra cost. That's right. Unlimited!
New and Updating patients fill out the forms at home!
Never deal with a paper update form again and patients never start over from scratch. Text or email patients a link to either log in to review previous answers or begin the process of filling out forms.
Mobile & Tablet friendly
Patients can choose to fill out forms on their phones, tablets or computers. The responsive design allows the forms to shrink down so no information is lost!
Internal Office Analytics
Learn the health of your practice by engaging with analytics. Quickly see which major diseases and top medications are most common in your practice.
Teledentistry forms
Provide Teledentistry with ease! Use our Teledentistry request form to prepare for contactless appointments.
Pediatric specific forms
Our pediatric forms are written for the child so no information is confused. Parents also can easily share information between siblings with our "Add family members" button.
Referral portal for specialty offices
Give your colleagues a secure form on your website to send patients (and x-rays) your way.
Immediate access to forms
Patient forms start coming in immediately as the patient finishes each form so there is no waiting for critical information
No passwords required
The patient portal is accessible 24/7 for patients and they never have to remember a password to get back into their information.
Patients have filled out their forms, but now what?
Put your forms to work and move patients into treatment faster with Presentations!
Learn more
Schedule a demo today to see how Dental Symphony can
fit into your current workflow!
SCHEDULE a demo