Chart Perio in seconds with our new mass charting tool.
Mass chart PD, GM, plague, bleeding, calculus, and suppuration to create a perfect cursory examination record. If your patient has a few areas of gingival recession or pockets, spot chart those areas of concern to get a more precise reading.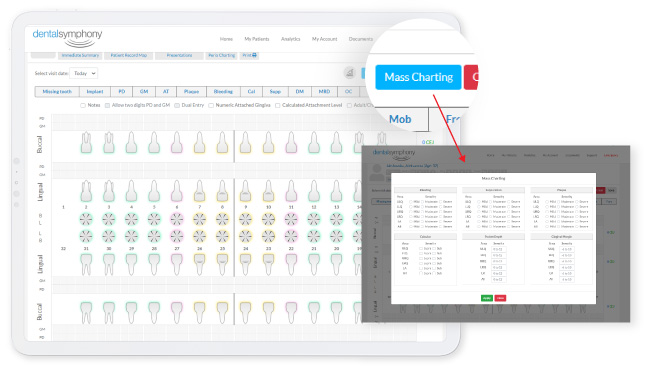 PerioCare teeth are not anatomical images but are designed to make charting
simple to see, fast to do, and easy to understand.
Instead of laboriously clicking on each tooth to report your findings, select what you want to chart (missing teeth, implants, mobility, bleeding, etc.) and then click all the teeth that apply.
With PerioCare you can:
View calculated attachment level changes immediately
Add notes to any tooth
Change between adult and child teeth status
Set your preferred charting direction
Start from a previously saved chart
Keep your hygienists and staff happy!
To save even more time, select 'dual entry' to input both pocket depth and gingival margin readings in the same pass through the mouth. Once you have added pocket depth and gingival margin you can click the calculated attachment level to immediately see the reading.
Free up valuable clinical time with mass charting to focus on the care, not the charting.
Once you chart a patient multiple times you can use our analysis tools to see their progress. The results are easy to explain and the graphs are impactful to the patient as they view the results of their home care habits.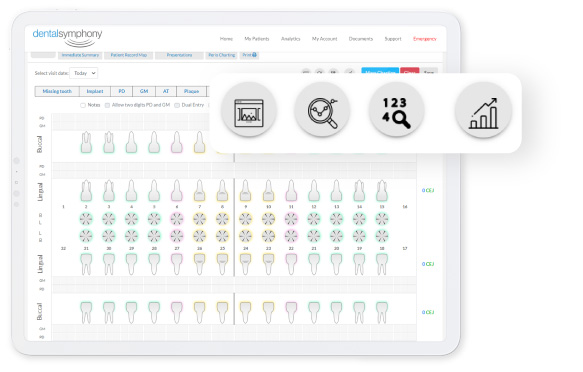 Auto-scroll through a patient's charting history to quickly view and show changes.
Visually track Bleeding, PD, and Plaque percentages to help patient see correlations.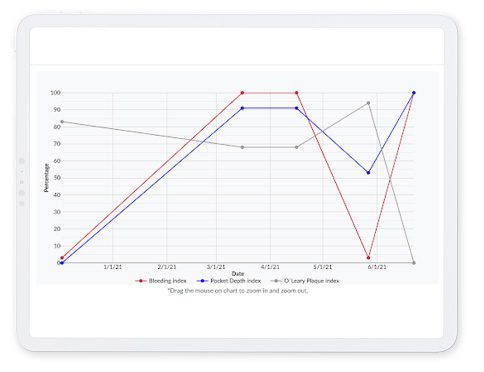 Easily compare the latest date PD, GM and CAL values with previous dates to see progress.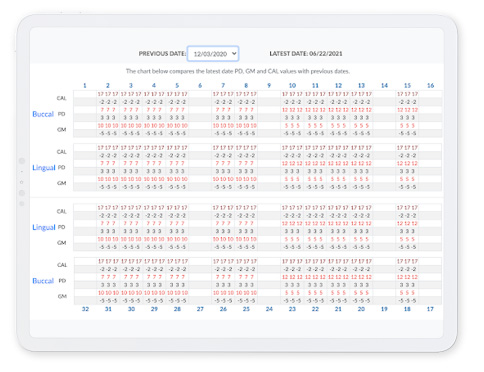 Linda, Hygienist
By far, I find the Dental Symphony perio charting to be the most efficient and clinically useful. It's the most efficient because I can chart an entire mouth in seconds using the mass charting.
Clinically useful because I show my patients a running graph of their plaque buildup, bleeding and pockets found at each appointment
In just seconds PerioCare eliminates the time burden of periodontal charting for your practice
SCHEDULE A DEMO